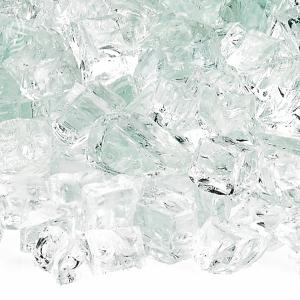 American Fireglass
1/2" Clear Fire Glass
Do your customers still use ceramic logs and fire stones in their fire feature? If they do, then isn't it high time you encouraged them to change over to fire glass which is a much more aesthetic and efficient alternative? Introduce them to this clear fire glass from our 1/2 inch fire glass collection which will turn even the humblest of fireplaces into a dazzling work of art.
This 1/2" clear fire glass is definitely one of our best sellers, being a favorite among homeowners and designers alike. Its ice-like quality allows it to blend perfectly with any type of décor and color scheme. Your customers may choose to use it as is, or mix it with other bright colors for an even more spectacular result.
Although the material is the same as our 1/4" clear fire glass, these chunkier 1/2" pieces allow for better air circulation, delivering a larger flame and creating an amazing fire display. When the flames blaze over the bed of clear fire glass, it creates the illusion of fire dancing on ice, leaving onlookers mesmerized!