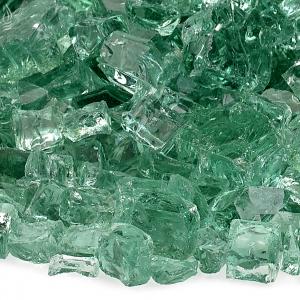 American Fireglass
1/2" Evergreen Fire Glass
Did you know scientific research has shown that just looking at the color green can relieve stress and help one relax? And why not? Green is the color of nature and there are few things as calming as gazing at nature in its full glory. Now your customers can unwind by bringing the calming effect of the color green into their homes with our 1/2" evergreen fire glass!
Made from the same material as our 1/4" evergreen fire glass, this variety is chunkier, allowing for better air circulation and delivering a larger, more impressive flame. Our evergreen fire glass is ideal for décors with an earthen theme and blends well with many other color schemes also. It is especially suited to outdoor fire features as it beautifully complements the color of the foliage while the colors of the flame create a wonderful contrast. When the fire feature is lit, the flames rise and dance over the bed of evergreen fire glass, creating a spectacle that will leave your customers and their guests enchanted.
A Practical Alternative to Ceramic Logs & Stones
Our evergreen fire glass is not just lovely to behold, but is also very practical. It does a great job of covering the entire floor of a fire feature, effectively concealing the unseemly pipes and tubes which are often visible in gas fireplaces and fire pits. This makes fire glass a more desirable alternative to the more commonly seen ceramic logs and stones.