New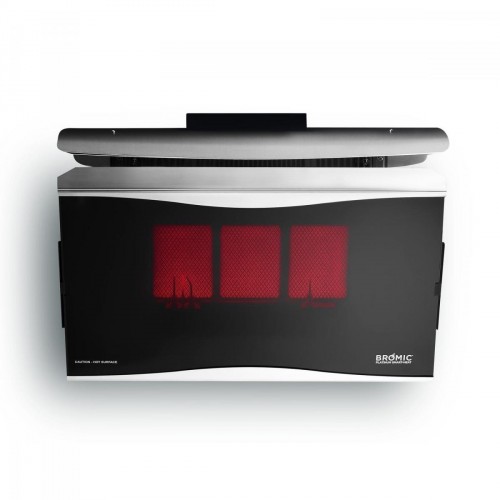 Bromic Heating
Bromic Platinum Smart-Heat Gas Heater
The Bromic Platinum 300 Gas Heater is modeled with an appealing tinted translucent ceramic medium that doesn't compromise heat output. This has proved to be a significant improvement from other designs on the market. The stainless steel finish and sleek look brings it all together making it superior to other outdoor heaters. This heater is not only stylish and unique, it's also very safe to use. The flame failure safety controls on the platinum gas heating range allow automatic re-ignition if the heater goes out. If the heater does not re-ignite, the integrated flame failure safety shut-off control will turn the heater off immediately.
By adding the optional Heat Deflector, you can install this heater as close as 14" to the ceiling. This installation technique allows the heater to be tucked closer to the ceiling corner and out of the way. If you prefer your heater to be mounted on the ceiling, a ceiling mount would be a useful accessory option.
The 300 Series Platinum Heater is ideal for heating approximately 120 square feet. If your area is larger, you may benefit more from multiple units or upgrading to a 500 Series Platinum Heater which heats approximately 200 square feet. No matter what you choose, the Bromic Platinum Heaters are essential for stylish heating decor.
Available Models:
Tinted Glass-Ceramic Screen
The signature screen of the Platinum series spreads comfort evenly across a large area while emitting an equally comforting, soft red glow.
Ceramic Efficiency
The slow-release ceramic burners are not only supremely efficient but are also the most environmentally friendly gas-fired heating method available.
Elegant Design
Designed with beauty and elegance in mind, Bromic Platinum gas heaters perform perfectly whether you choose to make them a feature or have them blend seamlessly into the background.
Unrivaled Coverage
For heaters that project comfort evenly across a wide expanse while reaching deeply into open areas, there is no equal.
Patented Direct Ignition
Bromic's patented, automated direct ignition dispenses with the need for a pilot light and results in instantaneous ignition whenever you require it.
Sturdy Construction
Our focus on exceptional engineering ensures Bromic heaters are built from premium materials to provide reliable performance and durability.
Ultimate Wind Resistance
At Bromic Heating we take pride in delivering innovative solutions such as our patented screen and ionization probe technology, which enables remarkable wind resistance and ensures reliable function in wind speeds up to 11mph.
Ease Of Use
With smart system compatibility and automated re-ignition, our Platinum Smart-Heat™ Gas series allows users to simply set and forget.
Versatile Mounting & Directional Control
Utilizing Bromic's range of dedicated ceiling and wall mount options, you can reclaim valuable floor space through fixed heater locations. In addition, our custom pivot bracket offers easily adjustable heat direction and coverage.
Wireless Control Capabilities
Enjoy seamless integration of remote heater control with our genuine wireless control accessories.
39,800 to 23,700 BTUs of Heat
CSA Approved
Burners Protected Behind High-Temperature Translucent Ceramic
Flame Failure Safety Shut Off
Electronic Ignition at the Touch of a Button
Even and Comfortable Radiant Heat Distribution
Heats Large Areas Quickly and Efficiently
Available for Natural Gas or Propane Gas
500 Series Dimensions: 29.8" W x 15.9" H x 16.6" D
300 Series Dimensions: 22.1" W x 15.9" H x 16.6" D