New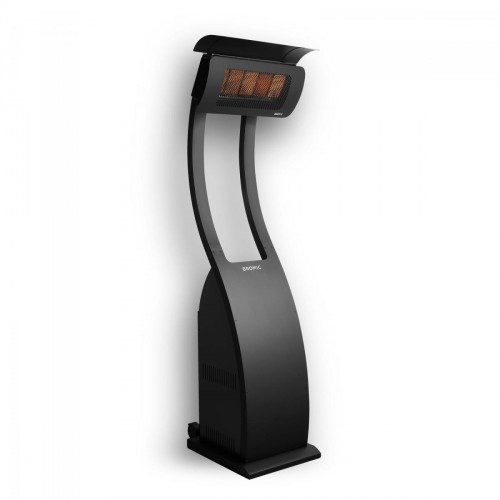 Bromic Heating
Bromic Portable Tungsten Radiant Propane Heater
The modern Portable Tungsten Radiant Propane Heater by Bromic Heating combines cutting edge technology, innovative design, and practical functionality, to bring you a heater that will exceed your expectations. Its design will add a touch of style to any outdoor living space, whether it be commercial or home use.
The heater utilizes a slow-release ceramic burner with directional heating to evenly and efficiently keep any area warm on even the coolest of days. Its mesh screen scientifically manipulates the heaters infrared energy to maximize its performance. The heater provides a widespread heat field of up to 200ft, a coverage area that will be sure to keep all your guests comfortable. In addition to this, it features an adjustable tilting head that directs the heat exactly where you would like it to go. This portable heater utilizes a high intensity ceramic burner which delivers optimal heat with minimal heat loss.
This Bromic heater has many practical features such as its anti-tilt and patented flame failure technology, which ensures that you and your guests won't have to worry about anything except having a wonderful time. It offers a one-touch ignition where you simply push one button to turn your heater on. Its ergonomic modular design makes it very easy to assemble or de-construct if you need to transport or store your heater.
This Portable Radiant Heater will take you social gatherings or your outdoor business to the next level.
Heat Output
The Tungsten Smart-Heat™ Portable delivers a widespread heat, held up to 13ft wide and 16ft deep to provide coverage of up to 65ft².
Versatility
Ensure tailored, comfortable heat with Bromic's unique and patented adjustable heat control.
Efficiency
Delivery of optimal heat with minimal heat loss is assured via high intensity ceramic burners.
Wind Resistance
No matter how challenging the environment, the Tungsten Smart-Heat™ Portable is specifically designed and built to deliver constant, consistent heat.
Directional Heat
Warmth is directed exactly where you want it with Bromic's innovative adjustable tilting head.
Modular Design
While powerful and stylish, the Tungsten Smart-Heat™ Portable is also functional and pragmatic in offering easy assembly, dismantling and storage.
Manoeuvrability
The Tungsten Smart-Heat™ Portable offers easy mobility through its anti-tilt structural design and built-in wheels.
High-Performance Mesh Screen
Up To 39,800 BTUs of Heat
Exceptional Wind Resistance
Slow-Release Ceramic Burners
Patented Flame Failure and Tilt Safety Technology
Convenient One-Touch Ignition
Ergonomic Modular Design
Dimensions: 19.2" W x 85.2" H x 27.6" D