New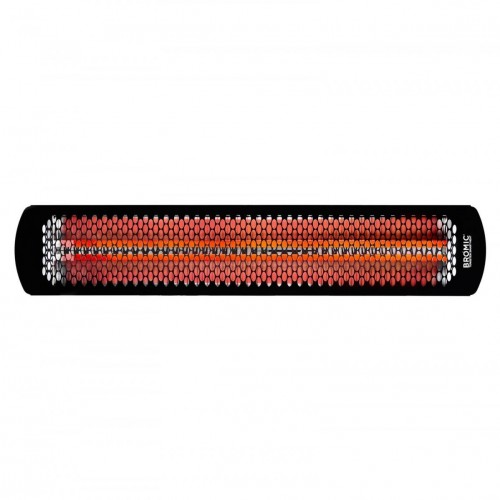 Bromic Heating
Bromic Tungsten Smart-Heat Electric Heater
This Bromic Tungsten Electric Heater combines industrial durability with effective industry leading technology. Featuring an extended body and a parabolic specular reflector, it offers an adjustable, even heat up to 160 square feet. The Tungsten Smart-Heat Electric unit emits minimal light and provides an ambient heating solution for any patio space.
The beautifully modern Bromic Tungsten Electric Heater series presents a wide wall of warmth which covers a vast footprint. Achieve a superior spread of heat with the Tungsten's unique mesh screen to maximize heat output and manipulate infrared energy for superior performance. Offering multiple models with heat outputs of up to 6000 watts, this durable stainless steel outdoor heater emits minimal light and provides a scalable solution wherever a heating system is required.
Available Models:
High-Performance Mesh Screen
Achieve a superior spread of heat with the Tungsten's unique front cover, which manipulates infrared energy for maximized outdoor heating performance.
Ultra-Durable Quartz Element
With a thick steel coil housed in translucent fused quartz, the Tungsten Electric series offers a high-output, durable element that emits a soft red glow.
Parabolic Specular Reflector (PSR)
Potentially lost infrared energy is directed back towards the target via a mirror-finish anodized rear reflector which maximizes performance and efficiency.
High-Temperature Coating
Deliver style and performance in any environment you're your choice of attractive, corrosion-resistant black or white finishes.
Easy Installation
Create comfort in no time by simply mounting with the included bracket and connecting to power.
Scalable Solution
Tailored outdoor heating has never been easier, with 2000W (2kW), 3000W (3kW), 4000W (4kW) and 6000W (6kW) models all featuring the ability to adjust the output of individual elements.
Ultra-Durable Design
Enjoy reliable heating for years to come thanks to durable stainless steel construction.
Precise Directional Heating
A simple bracket adjustment will accurately alter heat coverage as required.
Wireless Control Capabilities
Seamless integration of remote heating output adjustment is allowed via genuine wireless control accessories.
Heats 65-160 Sq. Ft.
High-Performance Mesh Screen
Ultra-Durable Quartz Element and Design
Precise Directional Heating
Parabolic Specular Reflector (PSR)
Easy Installation
Wireless Control Capabilities
2000W/4000W Heater Dimensions: 46" L x 11" W x 9" H
3000W/6000W Heater Dimensions: 57" L x 11" W x 9" H