New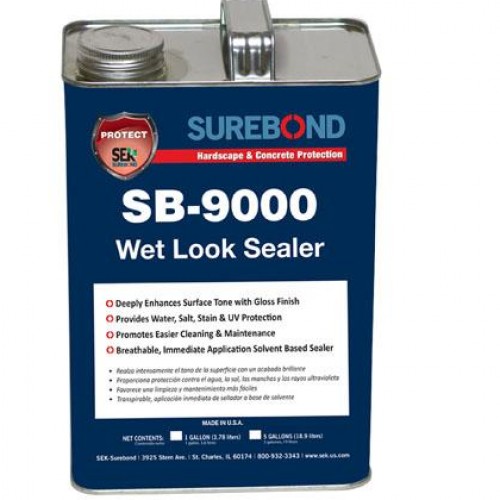 Surebond
Surebond Wet Look Sealer SB-9000
The high solids formula combines properties of adhesion, flexibility and UV light resistance to provide a long lasting seal. SB-9000 will penetrate the substrate and provide a protective layer on the surface that is resistant to mild acid, alkali and salt attack. SB-9000 will increase the stain resistance of the surface to allow for easier cleaning, maintenance and extended wear. SB-9000 can be applied immediately after paver installation, as it is breathable and will not trap naturally occurring efflorescence and moisture. SB-9000 is a solvent based product and is clear in appearance when applied. SB-9000 is designed as a one-coat application but a second coat may be applied if desired. Cured sealer is freeze resistant to -60°F (-51°C) and is stable up to a temperature of 180°F (82°C).
Suitable Surfaces
Ideal for concrete and clay pavers, flat and stamped concrete, or masonry surfaces such as stucco, retaining walls, concrete walls and exposed aggregate. Also works on limestone, sandstone and natural paving stones.
A test area is always recommended to determine product suitability and compatibility with your specific surface before use and also if desired results are achievable. Due to the inherent variabilitity of natural stone and clay products, long term performance may vary. Please consult with us prior to sealing if there are concerns.
Coverage

APPLICATION SQ.FEET SQ.METERS
Concrete & Clay Pavers/Exposed Aggregate 250 – 300 23.2 – 27.9
Cast-In-Place & Precast Concrete 200 – 300 18.6 – 27.9
Limestone & Sandstone 150 – 250 13.9 – 23.2
Old Concrete 300 – 400 27.9 – 37.2

Per gallon. Two coats of SB-9000 are recommended. Allow first coat to dry to the touch before applying second coat. Second coat coverage is estimated between 350-400 sq. ft. per gallon (32.5-37.2 M/G). Actual coverage may vary depending on the type, age, condition, joint size and porosity of the surface, application method and site conditions such as temperature.