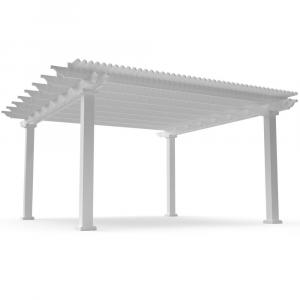 Freestanding Traditional Pergola Kits
Many homeowners dream of creating a backyard oasis but aren't sure where to start. The transformation from a simple backyard to an outdoor living space doesn't have to be expensive when you start with a freestanding pergola kit.
A freestanding pergola creates a well-defined outdoor space that can be as dramatic or as simple as your needs and budget. Heartland Pergolas' customized vinyl pergolas are low-maintenance structures that can be easily installed by you or by a contractor of your choosing. Your new backyard space can be used to shelter a patio, where you can share quality time with friends and loved ones, or craft a freestanding pergola to provide shade in an outdoor kitchen complete with a stone fireplace. No matter how you choose to use your customized vinyl pergola, you'll be adding beauty and function to your backyard.
Heartland Pergolas is a family-owned and operated business. For more than 30 years, their team has been designing, manufacturing and installing beautiful, durable and low-maintenance outdoor products for commercial and residential clients across the Midwest.
All vinyl pergola kits are made in the USA, at their manufacturing facility in Davenport, Iowa—with shipping to anywhere in the continental United States.
Follow the link below to get more information on how Heartland Pergolas can create the backyard retreat you have always dreamed about.
http://www.heartlandpergolas.com/
Choose Your Shade level
Our angled shade system on the pergola's roof allows for 50%, 75% or 90% shade patterns, while most others only provide 20-30%. Our team members can help you orient your pergola in the correct direction to maximize your shade coverage. The internal aluminum reinforcements allow for easy add-on drop shades or privacy paneling between posts. Don't need shade? Contact one of our team members and get those pieces removed for a reduced price.
High-Strength
Every Heartland Pergola features a rust-proof, ultra-strong aluminum frame that runs throughout the entire pergola. This means the full length of each post and the full length of all structural profiles (beams & rafters) of your pergola have fully extruded lifetime warranty aluminum pieces inside of the vinyl sleeves. Our pergola kits will not rot, sag or crack over time unlike wooden pergolas or wood inserts.
Low Maintenance
The durable vinyl exterior of your Heartland Pergola will maintain its beauty for years to come. No painting is required, just simply hose it down with soap and water. Check out tips for care and cleaning here.
Custom Design
All our pergola kits and plans are completely customizable. Simply, choose the size, amount of shade, post style, and color with our Design Your Pergola tool. You can also add options like a ceiling fan mount. If you can't find exactly what you're looking for with our tool, contact an estimator. Providing us with a picture or drawing is always the best way for us to correctly quote out your materials and because we manufacture all our pergola kits on-site, we can create shop drawings and a quote for your dream pergola.
Easy Installation
We have designed our vinyl pergola kits to be a one-and-done installation. Whether you're a novice DIYer with a helper choose to hire a professional contractor, your pergola will likely be ready to enjoy at the end of day one. We have a great written installation guide and an even better YouTube video installation series that mimics each step of the install guide with short, to-the-point videos showing you how to complete your install. See this example below of how our rafters attach to the beams!