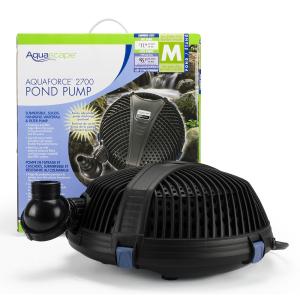 Aquascape
Aquaforce 2700
$269.98
Extremely energy-efficient, saving hundreds of dollars over traditional water pumps.
Maximum flow rate up to 2,695 gallons
14' Maximum head height.
Asynchronous motor technology provides high torque, trouble-free performance at higher head heights.
Easy to maintain.
147 Watts, 1.25 Amps.
25' Power cord.
Durable pre-filter cage design prevents clogging and reduces pump maintenance.
Oil-free design prevents pond contamination.
Plumbing adapter fittings included.
Provides years of trouble-free operation.