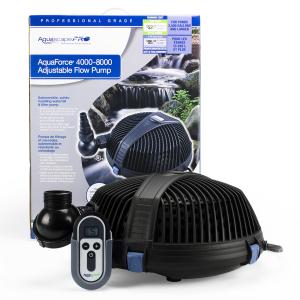 Aquascape
AquaForce 4000-8000 Adjustable Flow Solid Pond Pump
$669.99
Extremely energy-efficient, saving hundreds of dollars over traditional water pumps.
Allows you to customize and fine-tune the flow of waterfalls and streams.
Ability to adjust the flow makes it easy to select the right pump for any application.
Pump

can be turned on or off with remote.

Each remote and receiver are paired together with a unique frequency.
Maximum flow rate up to 7,793 gallons / 29,499 liters.
28' Maximum head height.
Asynchronous motor technology provides high torque, trouble-free performance at higher head heights.
Easy to maintain.
500-660 Watts, 5.5 Amps.
20' Power cord.
Durable pre-filter cage design prevents clogging and reduces pump maintenance.
Oil-free design prevents pond contamination.
Provides years of trouble-free operation.