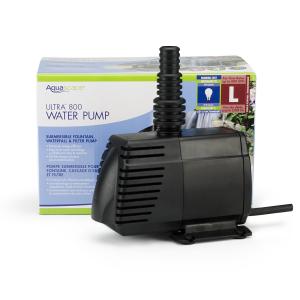 Aquascape
Ultra 800
Extremely energy-efficient, saving hundreds of dollars over traditional water pumps.
Maximum flow rate up to 793 gallons / 3,001 liters.
9' Maximum head height.
Magnetically driven or "mag-drive" motor technology is simple and easy to maintain.
Durable pre-filter cage design protects pump and reduces pump maintenance.
58 Watts, .80 Amps.
25' Power cord.
Oil-free design prevents pond contamination.
Provides years of trouble-free operation.
3-Year Limited Warranty.