Buttermilk Brined Chicken With Maple Glaze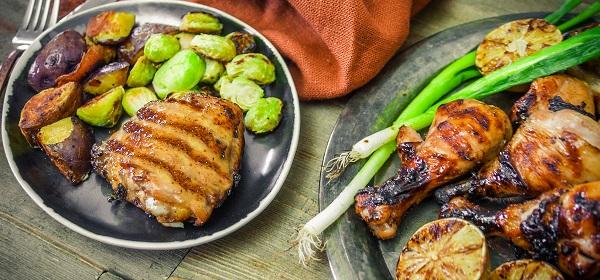 INGREDIENTS
12 to 16 - bone-in, skin-on chicken thighs, legs, or 8 chicken breasts
2 cups - buttermilk
2 - green onions chopped
2 cloves - garlic grated
½ tsp. - pepper
¼ tsp. - cinnamon
½ tsp. - crushed hot pepper flakes
3 tsp. - salt
¼ cup - maple syrup
1 clove - garlic, grated
DIRECTIONS
Combine the brine ingredients in a large bowl. Whisk together the buttermilk, green onion, garlic, pepper, cinnamon, chili flakes, and salt. Submerge the chicken parts, cover and refrigerate until you are ready to grill - two hours minimum, up to six or eight hours. Try and use chicken parts that are similar in size for uniform cooking.
When ready to cook, preheat the grill to about 450°F, preparing for direct heat. Remove the chicken from the brine and discard any brine that remains.
In a small bowl, combine the maple syrup and 1 clove of grated garlic.
Thoroughly oil the grids using avocado or coconut oil and then grill the chicken, skin side down, using direct heat until delicious grill marks form on the chicken skin. Turn the heat down to around 350°F, flip the chicken, and continue cooking.
Glaze the chicken with the maple syrup mixture a couple of times while the chicken continues to cook. Keep glazing until the chicken is glossy and has reached an internal temperature of 165°F.
Serve with your favorite side dishes or roasted seasonal vegetables.
PREP TIME - 375 Min
COOK TIME - 30 Min
YIELD - 8
DIFFICULTY - Easy
---