Grilled Chicken Carbonara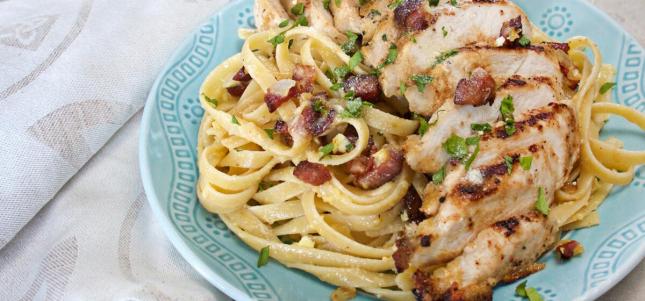 INGREDIENTS
1 lb. - fettuccine, cooked al dente
2 - chicken breasts
salt, and freshly ground pepper to taste
2 tbsp. - olive oil
8 strips/1 cup bacon or bacon ends, chopped
1 - medium onion, chopped
2 - cloves garlic, minced
4 - eggs
1 cup - grated parmesan cheese, + for topping
1 tbsp. - freshly chopped italian parsley
DIRECTIONS
This recipe moves fast once you get the garlic going in step 5. Have all of your ingredients prepared and by your side before starting.
Oil your grids with 1 tbsp. of oil and preheat your grill to 425°F and prepare for direct and indirect grilling.
Season the chicken on both sides to taste with salt and freshly ground black pepper. You can also add a pinch of garlic powder if you wanted too. Grill the chicken over direct heat until sear marks form on both sides. Move the chicken over to indirect heat to finish cooking.
Whisk the eggs in a bowl and set aside. Set a pot of water to boil. While the water is coming to a boil, cook the bacon in a deep-sided frying pan over medium-low heat. Drain it on a paper towel, but reserve the bacon fat.
Cook the fettuccine until al dente. The goal is to have the pasta ready to go into the pan as soon as the veggies are done.
Fry the onion in the bacon fat, over medium-low heat, until it's translucent. Add the garlic, cooking for another minute.
Drain the noodles and add them to the frying pan. Remove the pan from the heat. Drizzle the fettuccine with the remaining tbsp. of olive oil, then add the egg. Using rubber tipped tongs, toss the pasta and egg mixture. Add the parmesan cheese and continue tossing until all of the noodles are coated and creamy. Slice the chicken breasts and add this to the pasta along with the bacon. Toss to coat.
Serve immediately sprinkled with the remaining parmesan cheese and chopped parsley.
Grilled Chicken Carbonara With Homemade Bacon, who knew you could do an insanely gourmet meal in less than an hour? Garlicky and creamy, full of yummy bacon? Who could ask for more? This recipe doesn't keep well, that is to say, that it doesn't stay creamy for long. So it's best eaten right away. Leave no leftovers. Tell us your favorite pasta dish. Leave a comment and tell us. PRO TIP: Help! My pasta went from creamy to scrambled eggs! Unfortunately, if you got that far, your recipe is toast. You either eat it like that or start again. BUT next time, make sure the noodles are hot, but your pan is completely off the heat. In fact, pull the pan off the heat before adding the noodles. Also, remember to use a rubber tipped pair of tongs so that you don't ruin your frying pan.
---