Hot Dogs Wrapped With Bacon & Stuffed With Cheese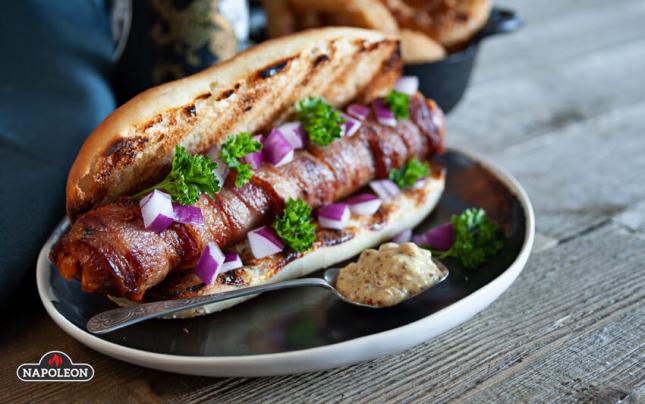 INGREDIENTS
4 large, ballpark style, hotdogs
4 to 8 cheese snack sticks, mostly frozen, jalapeño Monterey Jack recommended
8 slices bacon
4 buns, like COBS Bread Gourmet Hotdog Buns
diced red onion for topping
Sturdy straws like those used for a slushy
DIRECTIONS
Before starting, place your cheese into a freezer to ensure that it is extremely cold and stiff. Preheat your grill to around 400°F to 450°F, preparing to use indirect heat.
Using a straw that you would get from bubble tea, or a slushy (slightly thicker than usual straws) bore a hole through the hotdog.
Slice the cheese stick lengthwise so that it will fit into the hole you have created. Gently fill your hole-y hotdogs with the cheese, then cap both ends with a plug made from the removed hotdog.
Wrap each dog with bacon, securing it in place with toothpicks.
Place the bacon wrapped hotdogs onto the grill and bake using indirect heat for 10 to 15 minutes, turning every five minutes. Once the bacon fat has rendered a little, and the bacon has begun to crisp, you can move it to direct heat for a little kiss of flame. Be vigilant as the bacon fat will cause flareups.
Toast the buns, and once you're satisfied with the doneness of the bacon, remove the hotdogs from the grill. Remove the toothpicks.
Serve your hotdogs on the toasted buns, topped with a generous helping of diced red onion and your favorite condiments.
---