Tailgate Mug Chili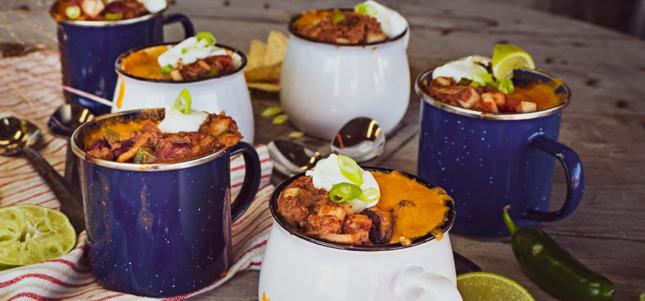 INGREDIENTS
2 lbs.ground brisket
¼ cup Worcestershire sauce
1 clove garlic, minced
Salt and pepper to taste
1 can (540 ml, 18 oz) kidney beans
1 can (796 ml, 28 oz) diced tomatoes
1 onion, diced
1 jalapeño pepper, diced
1 green pepper, diced
½ cup beer – preferably a red ale style beer
½ lime, juiced
½ cup Texas Style Bold & Spicy BBQ Sauce
2 cloves garlic, minced
1 tbsp. chili powder
1 tsp. oregano
1½ tsp. cumin
Tortilla chips for serving
Sour cream for serving
Shredded cheese for serving
DIRECTIONS
Preheat your TravelQ to 300°F. In a large bowl, combine the ground brisket, Worcestershire, garlic, salt, and pepper. Form the meat into 6 or 8 patties. Grill them using indirect heat for 15 to 20 minutes – until cooked or very nearly there.
Break the brisket into chunks in a large, heat-safe bowl. Add the kidney beans, tomatoes, onion, both peppers, beer, lime juice, garlic, and seasonings. Mix thoroughly
Divide the chili between 6 oven safe mugs, ceramic or enameled. *Remember to check and make sure that these mugs are safe for higher temperatures*.
Preheat the TravelQ to about 300°F once again, preparing for indirect grilling. Cook the chili for another 35 minutes.
Using heat-resistant BBQ gloves – like Napoleon's – remove the mugs from the barbecue and allow them to cool until safe to touch. Top with sour cream and shredded cheese. Use tortilla chips instead of spoons.
---